Guitar & Bass Amps/Effects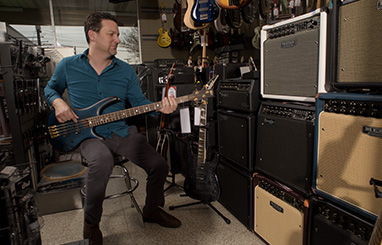 Now that you are a proud owner of a guitar or bass, your next step is to purchase an amplifier and add some effects. An amp may be packaged as an all-in-one combo amplifier, which contains the electronics and speakers, or as an assembly encompassing an amplifier head and one or more speaker cabinets. Whether you are looking to serenade a small crowd with a combo amplifier or rock out at a concert with an amp stack, we've got you covered!
Between the instrument and its amplifier, a musician may add effects units to further customize his or her sound. Effects generally come in the form of pedals, and many are considered must-have equipment. We've got a huge selection of effects ranging from overdrive and Wah-wah pedals to a single pedalboard that may include a wide variety of effects, from tuner pedals to compressors and limiters to reverb, chorus and echo pedals and more!