Lafayette Music Camp
"Helping young minds grow through the enjoyment of music."
For thirty-six years, Lafayette Music Camp has been devoted to sharing the gift of music with students throughout Acadiana. The key to our success is a combination of motivated young musicians, an outstanding staff of music educators and a curriculum designed to improve performance.
Our unique approach to teaching instrumental music focuses on the development of individual musicianship and allows the students to refine their talents separately as well as in a group. However, we are sure to leave ample time for the students to have fun outside of the Band Room. Our extra-curricular activities are often the highlight of the campers' stay and include swimming, sports, a shaving cream contest, dancing and much more. Music can and should be fun!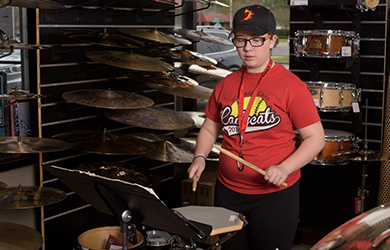 Each year Lafayette Music Camp hosts two different camps:
Drum Major Camp strives to prepare high school drum majors to be successful band leaders.
Band Camp, is for middle school students entering 6th, 7th, and 8th grade bands, and is an excellent opportunity for young musicians to hone their theory and performance skills
Drum Major Camp

Drum Major Camp 2022 will be held Tuesday, July 12th through Friday, July 15th.

Once complete, mail the registration form with the deposit to Lafayette Music Camp, 3700 Johnston St. Lafayette, LA 70503. If you have any questions, please click the "Contact Music Camp" button to send us an email or give us a call at (337) 984-3700. Space is limited, so register now!

To stay up-to-date with Drum Major Camp visit our Facebook page here.

Download Registration Form
Band Camp

Band Camp 2020 will be held Sunday, May 31st through Tuesday, June 2nd.

Once complete, mail the registration form with the deposit to Lafayette Music Camp, 3700 Johnston St. Lafayette, LA 70503. If you have any questions, please click the "Contact Music Camp" button to send us an email or give us a call at (337) 984-3700. Space is limited, so register now!

Download Registration Form
Drum Major Camp

Drum Major Camp

Drum Major Camp 2022 will be held Tuesday, July 12th through Friday, July 15th.

Once complete, mail the registration form with the deposit to Lafayette Music Camp, 3700 Johnston St. Lafayette, LA 70503. If you have any questions, please click the "Contact Music Camp" button to send us an email or give us a call at (337) 984-3700. Space is limited, so register now!

To stay up-to-date with Drum Major Camp visit our Facebook page here.

Download Registration Form

Band Camp

Band Camp

Band Camp 2020 will be held Sunday, May 31st through Tuesday, June 2nd.

Once complete, mail the registration form with the deposit to Lafayette Music Camp, 3700 Johnston St. Lafayette, LA 70503. If you have any questions, please click the "Contact Music Camp" button to send us an email or give us a call at (337) 984-3700. Space is limited, so register now!

Download Registration Form